The official Add to Cart Shopify App is now available on the Shopify App Store.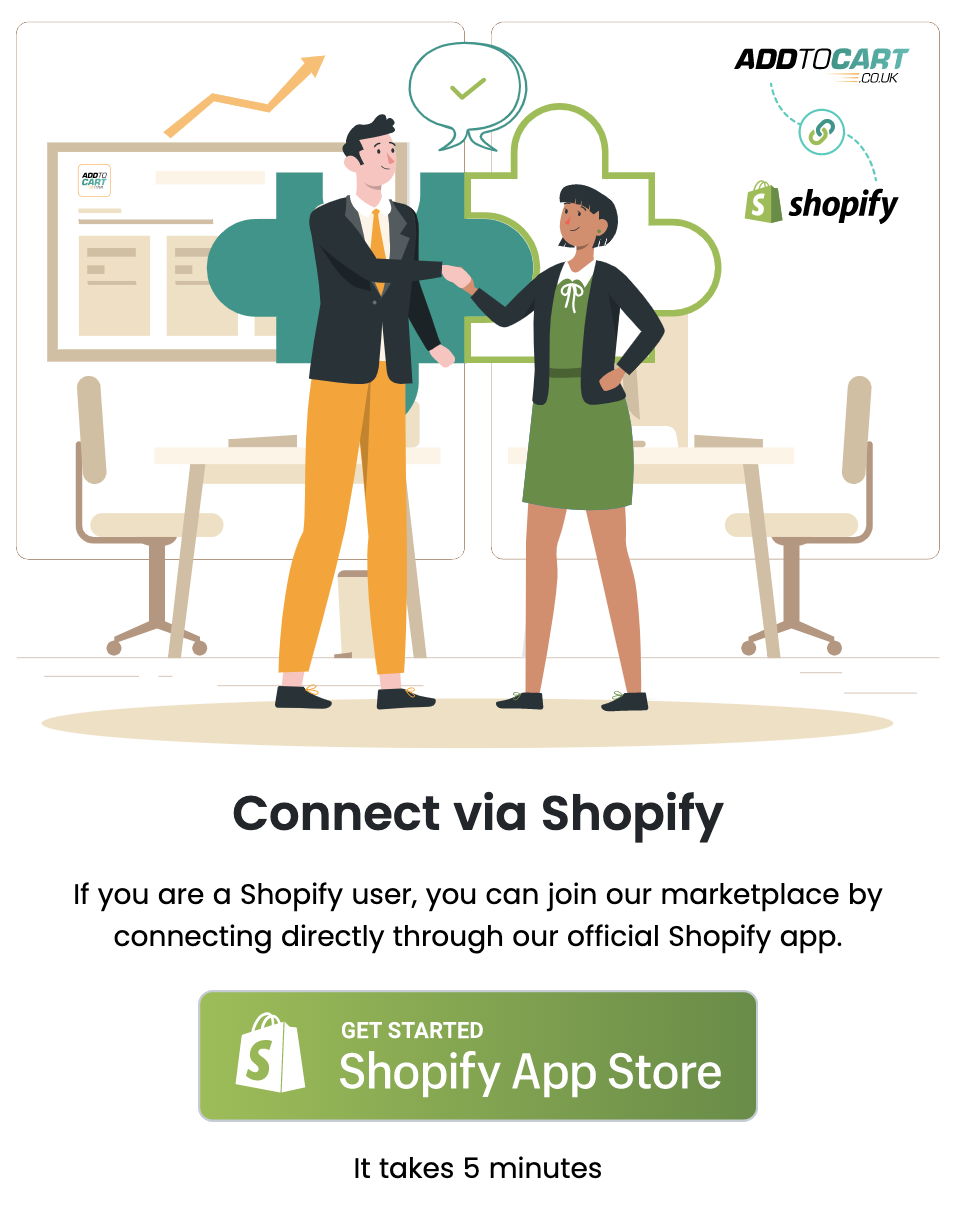 Whether you're just about to launch an online shopping business for the first time or you're a seasoned pro, sometimes we all need a little help getting our businesses where we want them to be. Luckily, there's Add to Cart. An e-commerce aggregator designed to drive traffic and boost sales, this innovative new platform will help you reach your goals in no time at all.
Here are 10 great reasons why you should sign up today.
1: It's free to join
Add to Cart is completely free to join, with no expensive subscriptions or monthly fees? In fact, you only pay a small commission if you make a sale – so there's nothing to lose.
2: Benefit from strong SEO and online marketing
By signing up to Add to Cart, you'll be able to leverage our strong marketing campaigns to get your products seen by new audiences across the organic Google SEO rankings, social media, and even Google Shopping results.
3: Unlimited number of products
Again, you'll find that other platforms place a limit on the number of products you can upload. But not Add to Cart. Feel free to add as many items as you like, with no extra charge.
4: Easy integration
In just a few clicks, you can integrate your existing Shopify store with Add to Cart using the official sales channel app. What's more, any sales will be directed straight to your online store, so there's no need to learn any complicated new systems or processes.
5: Quick to set up (5 minutes)
Unlike other e-commerce marketplaces, Add to Cart couldn't be quicker or simpler to use. In just five minutes you can have a page set up and ready to go, with minimal maintenance required moving forwards. To learn more or get started please visit our Shopify page.
6: Easy to sync – no technical knowledge required
Because your Add to Cart platform syncs with your existing store, you don't need to update it every time you upload a new product or amend a description – all the changes will be made automatically, saving you precious admin time.
7: Save money on online marketing
Thanks to Add to Cart, you'll see amazing results without having to fork out a penny for online marketing services. As an independent business, it's a great way to keep your budget on track.
8: Every shop gets a dedicated business brand page
When you sign up to Add to Cart, you'll get your own dedicated page for your store. Benefiting from slick design and expert SEO, it's a professional and stylish way to promote your products.
9: Cross-platform visibility (including social media)
Add to Cart works to improve visibility for your products across multiple platforms, including Google Shopping, Facebook Shops, Instagram Shops, and more.
10: Dedicated support team
Whether you're struggling with technical problems or wanting to find out more about how to optimise your business, the Add to Cart support team is always on hand to offer solutions and advice – no problem is too big or small.