With more and more sellers signing up with Add to Cart, our innovative new marketplace is going from strength to strength. And we've just had further confirmation in the shape of an awesome article by Richard Tyler, the Editor of The Times Enterprise Network.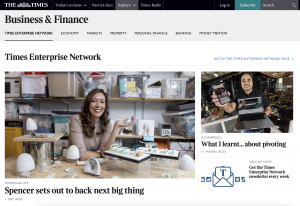 Founded in May 2021 the Times Enterprise Network was formed to support and inspire SMEs across the country. And along with informative news and articles, this offshoot of The Times newspaper regularly features interviews with leading entrepreneurs, giving them an opportunity to share the secrets of their success.
This time round, it was our founder Tej Randeva's turn to shine. Speaking to Tyler, he discussed the challenges that the Covid pandemic has presented to his existing companies – and how Add to Cart was formed as the business landscape changed.
As many of his previous clients adapted to e-commerce, Randeva found himself doling out advice. And in doing so, he noticed that there was a gap in the market for a low-cost rival to large e-commerce marketplaces such as Amazon and eBay. And, most importantly, he wanted to develop a solution that put SMEs first.
"Many of these sellers are new to business and everyone wants to sell on Amazon and eBay," Randeva told Tyler. "But they don't know what they are getting themselves into long term. The customer is never their customer. If they fall out with Amazon they get cut off. Imagine if you have built your [Amazon shop] up for two years and neglected your own website. Unlike Amazon and eBay, our clients get to keep the customer and the data."
Elsewhere, Randeva highlighted more benefits that sellers get from signing up to Add to Cart, such as increased product visibility thanks to the in-house expert SEO and marketing team. He explained, "We rank highly because Google requires a specific type of feed to make a product and page rank. One of the key factors is how you present the information to them. There are probably 200 things they ask for and we have followed every last one. How does a seller know how to do that? We are giving them a helping hand."
Currently, Add to Cart has an expanding network of sellers signed up and over 60,000 products on sale – and that's before our official launch! As we continue to grow and expand, we expect plenty more articles like this one to emerge.
Here's more press coverage for Add to Cart: